Born: June 9, 1902 - Hennstedt, Dithmarschen, Germany
Died: November 23, 1973 - Glüsing, Holstein, Germany
Hans Friedrich Micheelsen was a German organist, teacher, and composer. He studied in Hamburg and Berlin. He was active as a church organist until 1938, when he was drafted into the German army. After demobilization, he settled in Hamburg, where he taught at the Hochschule für Musik until 1962.

Hans Frledrich Micheelsen wrote primarily choral music and pieces for organ. Among his works were a Luther Mass (1933); a German Requiem, Tod und Leben (1938); an oratorio, Wachstum und Reife (1953); Passion according to St. Mark (1954); Land der Vater, cantata (1955); Unser Wandel ist im Himmel, evangelical mass (957); St. John's Passion for Chorus (1961); also a Singspiel, Munchhausen; Organ Concerto (952); Suite for Flute and Piano (970); some songs in the Hamburg dialect.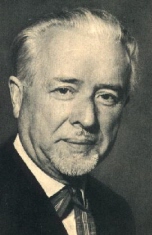 Source: Baker's Biographical Dictionary of 20th Century Classical Musicians (1997)
Contributed by

Aryeh Oron (May 2006)
Use of Chorale Melodies in his works

Title

Chorale Melody

Year

Deutsches Tedeum

for 5 voices

Vater unser im Himmelreich

, for organ (Organistenpraxis, Heft 2)

1952
Bibliography
MGG

IX, 271 f., XVI, 1276