Recordings/Discussions
Background Information
Performer Bios
Poet/Composer Bios
Additional Information
Born: June 10, 1843 - Graz, Austria
Died: October 9, 1900 - Wiesbaden
The Austrian composer, Heinrich von Herzogenberg, was the son of an Austrian Court official. He received his early education in the humanities at the Gymnasien in Feldkirch (Vorarlberg), Munich, Dresden, and Graz. In 1861, he enrolled at the University of Vienna and began a course of study in law and philosophy. This, however, was short-lived, as in 1862 he left the university to become a composition student of Felix Otto Dessoff, a professor at the Vienna Conservatory. Herzogenberg was to study with Dessoff for the next two years. It was at Dessoff's house that Heinrich first encountered Johannes Brahms. The two soon formed a lifelong friendship, with Herzogenberg devoting himself to the promotion of Brahms' music. Although he seems to have valued Herzogenberg's criticism of his own work, Brahms appears to have never found it in himself to take Herzogenberg seriously as a composer. In 1868, Herzogenberg married Elisabeth von Stockhausen (1847-1892), the daughter of a Hanoverian Court diplomat, and a pianist and composer in her own right. Von Stockhausen too shared a close friendship with Brahms, who seems to have valued von Stockhausen 's insights even more than those of Heinrich. It was through the family's interactions with Brahms that the Herzogenbergs came into contact with some of the most notable figures in German music at that time, including Robert and Clara Schumann.

For a period of four years, the Herzogenbergs lived in Graz, where Heinrich worked as a freelance composer. Then, in 1874, they moved to Leipzig where, with Philipp Spitta and several others, Heinrich was to found the Leipzig Bach-Verein (Bach Society). He became the director of the group in 1875, a position he held for the next ten years. In 1885, Herzogenberg was appointed professor of composition at the Berlin Hochschule für Musik, succeeding Friedrich Kiel. From 1889, in addition to his other teaching duties, he also conducted a master class in composition at the Hochschule. It was also in 1889 that Herzogenberg was elected a member of the Akademie and when he began his tenure as director of the Meisterschule für Komposition in Berlin, a position he was to hold from 1889 to 1892 and again from 1897 to 1900. Elisabeth's death, in 1892, seems to have been a heavy blow to Heinrich, who subsequently buried himself in his work. Later that year, he returned to his position at the Hochschule after an absence due to ill heath, no doubt compounded by his grief over the death of his wife. Herzogenberg continued teaching until 1900 when further ill health forced him to retire; he died shortly afterwards.

As a contemporary of Johannes Brahms, Heinrich von Herzogenberg spent most of his compositional life living in the shadow of Brahms' gigantic stature. Herzogenberg's works represent a great divergence in styles and influences. His output is vast and takes the form of every musical genre with the exception of opera. He wrote many concert works with sacred texts, three oratorios; several choral orchestral works, including two psalms, a mass, a requiem, several motets, and a sacred cantata; two symphonies; chamber music including three string quartets; music for piano and organ; many secular part songs (with and without accompaniment for mixed, men's, and women's choirs); and despite being a lifelong Catholic, many short liturgical works for the Protestant liturgy. In general, his music can be said to exhibit a general Brahmsian surface. The piano works in particular, which were initially influenced by Schumann, as well as the chamber music, are clearly modeled on the music of Brahms. However, beneath these surface commonalties, Herzogenberg's music illustrates not only a variety of other influences, but also the hand of a master composer in his own right. In some of his early works, he was intent upon following the path of the "New German School." A later rejection of the "New German" compositional ideology led the young Herzogenberg to a course of study using as a model the music of J.S. Bach. This interest in early music (especially the music of Bach and Heinrich Schütz) was a trait that was greatly fostered by Spitta and took form in Herzogenberg's church music, especially that of the composer's later years.
Works
While Herzogenberg has tended to be characterized as a mere epigone of Brahms, many of his compositions show little or no overt Brahmsian influence, for example his two string trios Op.27 Nos. 1 & 2, while some early compositions pre-dating his acquaintance with Brahms have features in common with the older composer. He wrote much choral, orchestral, instrumental and chamber music, including eight symphonies (one being a programmatic symphony entitled Odysseus). His early Theme and Variations, op.13, for two pianos (1870) is a notable work in its genre. Important works choral include the cantata Todtenfeier, op.80 (1893) in memory of his wife; Mass in E minor, op.97 (1894) in memory of Spitta and the oratorio Die Geburt Christi, op.90 (1894) with a libretto by Spitta's brother Friedrich. He wrote a great deal of chamber music: 2 string trios Opp.27 Nos 1 & 2, 5 string quartets Opp.18,42 Nos.1-3, & 63, a string quintet (2 violas) Op.17, 2 piano quartets Opp.75 & 95, 2 piano trios Opp.24 & 36, a trio for piano, oboe & horn, Op.61 and several sonatas for various instruments. Today, the general consensus of critics and scholars is that his contribution in this area is his most important.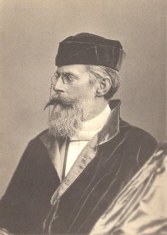 Source: All Music Guide Website (Author: Stephen Kingsbury); Wikipedia Website
Contributed by

Aryeh Oron (April 2006)
Use of Chorale Melodies in his works

Title

Chorale Melody

Year

Kommt her zu mir, spricht Gottes Sohn

, motet for chorus, Op. 102/1

Organ Fantasia on the melody Nun komm, der Heiden Heiland, op. 39

1883
Bibliography
Johannes Brahms. The Herzogenberg Correspondence

edited by Max Kalbeck, translated by Hannah Bryant (London, 1909)
Cobbett Cyclopedic Survey of Chamber Music, 2nd Edition, Oxford University Press 1963
---
Last update: Wednesday, June 14, 2017 14:59