Recordings/Discussions
Background Information
Performer Bios
Poet/Composer Bios
Additional Information
Born: September 24, 1921 - Kamenz near Bautzen, Saxony, Germany
Died: March 13, 2007 - Barthelmesaurach, near Schwabach, Germany
The German conductor, Hans Thamm, attended the Kreuzschule in Dresden and was member and soprano soloist - later choir assistant - in the famous Dresdner Kreuzchor choir under Rudolf Mauersberger. Among his teachers were also Professor Herbert Collum and LKMD Alfred Stier, whose assistant he was in Versöhnung Church in Dresden.

After World War II, Hans Thamm began to build himself a new existence. First he was employed at the church music institute of the University of Erlangen (he was active there as singing soloist and organist). For a short time he kept an employment as teacher for clavier and organ at 'Pfarrwaisenhaus' in Windsbach, at the same time he informed there at the Progyrnnasium Musik (High School for Music).

Hans Thamm's artistic personality, his almost over-on-boardends musicality, his almost inexhaustible energy and above all the almost fanatic obsession, the Central German boy choir tradition to middle Franconia "transplants" all these criteria was in the long run the impact for the establishment of the Windsbacher Knabenchor (Windsbach Boy Choir) in the spring 1946 in the tradition of Dresdner Kreuzchor. The first services and concerts followed; the "Lorenzer Motetten" in the Nürnberger Hauptkirche (Nürenberg Main Church) became starting from 1955 the constant mechanism.

Soon record companies, broadcast and TV organisations started to document the enormous quality and the unmistakable "silvery" sound of the Windsbacher Knabenchor attentively. Hans Thamm and his choir were already considered at that time as guarantor to interpretations of religious music on technical and musical highest level. On innumerable broadcast and Television productions and over 30 records, which Hans Thamm produced with the Windsbacher Knabenchor in the course of his 32-year Cantor service, these special features are documented impressively.

Hans Thamm received for his work in the course of the years many prizes and honours, as the Bavarian Service Medal and the Bavarian Culture Prize to mention only the most important. Last, in 1996 - after 50 years - the city of Windsbach awarded him with Honour Citizenship.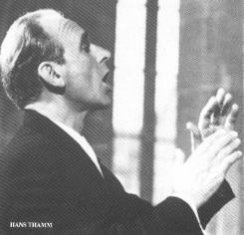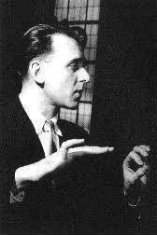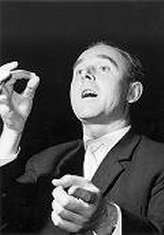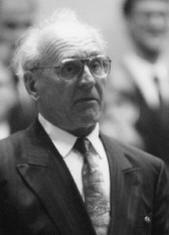 Source: Windsbacher Knabenchor Website; Liner notes to the CD 'J.S. Bach: Cantatas BWV 110 & BWV 17' conducted by Hans Thamm (Bayer Records, 1996), English translation by Aryeh Oron (September 2001); Rondeau Production Website
Contributed by

Aryeh Oron (May 2001, March 2002); Bradley Lehman (August 2007)