Recordings/Discussions
Background Information
Performer Bios
Poet/Composer Bios
Additional Information
Born: October 10, 1876 - Hamburg, Germany
Died: June 17, 1953 - Leipzig, Germany
The German writer on music and composer, Walter Niemann, was a pupil of his father, Rudolph (Friedrich) Niemann, and of Engelbert Humperdinck (1897). From 1898 to 1901, studied at the Leipzig Conservatory with Reinecke and von Bose, and at the University of Leipzig with Riemann and Hermann Kretzschmar (musicology). He received a Ph.D. in 1901 with the dissertation Über die abweichende Bedeutung der Ligaturen in der Mensuraltheorie der Zeit vor johannes de Garlandia (published in Leipzig, 1902).

From 1904 to 1906 Walter Niemann was editor of the Neue Zeitschrift für Musik in Leipzig; from 1907 to 1917 he was a teacher at the Hamburg Conservatory. From 1907 to 1917 he was again in Leipzig as a writer and critic of the Neueste Nachrichten, then gave up this position to devote himself to composition.

Besides a Violin Sonata and a few works for orchestra and string orchestra, he wrote numerous piano pieces (over 150 opus numbers).
Writings
All published in Leipzig unless otherwise given:
Musik und Musiker des 19. Jahrhunderts (1905)
Die Musik Skandinaviens (1906)
Das Klavierbuch (1907; 5th edition, 1920)
with G. Schjelderup, Edvard Grieg: Biographie und Wurdigung seiner Werke (1908)
Das Norlandbuch (Weimar, 1909)
Die musikalische Renaissance des 19. Jahrhunderts (1911)
Taschenlexikon für Klavierspieler (1912; 4th edition, 1918, as Klavierlexikon)
Die Musik seit Richard Wagner (1913; 5th and later editions as Die Musik der Gegenwart seit Wagner)
Jean Sibelius (1917)
Die nordische Klaviermusik (1918)
with O. KIauwell, Die Formen der Instrumentalmusik (2nd edition, 1918)
Die Virginalmusik (1919)
Meister des Klaviers (1919)
Brahms (1920; 14th edition, 1933; English translation, New York, 1929)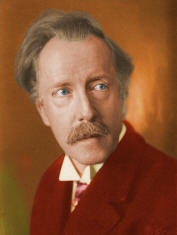 Source: Bakerís Biographical Dictionary of 20th Century Classical Musicians (1997)
Contributed by

Aryeh Oron (July 2007)
---
Last update: Tuesday, June 20, 2017 23:38