Teri Noel Towe - Producer of Historical Reissues on Compact Discs Page at the Teri Noel Towe Home Pages
---
Teri Noel Towe
Producer
of
Historical Reissues on Compact Discs
---
"What would happen if, in order to reconstruct, say, the performance practice of Beethoven's day, we were to start not from modern style but from the style preserved on early gramophone records?

. . . . our conjectures would be quite different if we were living in the 1920s instead of the 1980s. Similarly 18th- and 19th-century descriptions of tempo rubato make a very different sort of sense if we take early, rather than late, 20th-century style as the starting point for comparison. My own very strong suspicion is that many of the habits preserved in early gramophone records had their origins at least as far back as Beethoven, and in some cases earlier. This is something to argue about, but one central point is indisputable: the styles of the early 20th century did not arise overnight. For this reason, if for no other, it is time for historically minded performers to start considering the implications of early gramophone records."

Robert Philip
"The Recordings of Sir Edward Elgar -- Authenticity and Performance Practice"
Early Music, November, 1984
---
As a record producer I specialize in historical reissues, the transfer from 78 RPM shellac discs to compact disc. I have a particular interest in the republication of early recordings of Baroque repertory, and a major motive for my efforts as a producer of historical reissues is the fervent desire to assure the preservation and ready availablity of the early recordings that are of inestimable value to the open-minded and the open-eared who are seeking to reconstruct accurately the performance practice of earlier periods.
I work only with the renowned Seth B. Winner, who is not only a committed and knowledgeable collector of historic recordings but also an experienced "Tonmeister" unsurpassed in all of the technical aspects of transferring historic recordings, regardless of the original format. He is particularly adept at that most challenging aspect of the transfer process: sound restoration.
One of the productions for which Seth and I are most widely known is "A Collector's Messiah: Historic Handel Oratorio Recordings: 1899 - 1930", which was released in the spring of 1993 by Koch International as a part of its Historic series. The 2 CD package (Catalogue no.: 3-7703) includes the earliest known commercial "Messiah" recording, as well as 44 other rare and early Handel recordings (all but one an excerpt from "Messiah"), none of which had ever been previously republished. The set is of particular value to those who are interested in the performance practice of by-gone eras.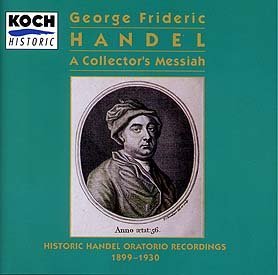 "A Collector's Messiah" (Koch Historic 3-7703)
"A Collector's Messiah" is not the only reissue devoted to historic Handel recordings that Seth and I have prepared. For Koch's Historic series, we made the first transfer of the first recordings of any of Handel's "Concerti Grossi, Op. 6". Made for British Decca in 1929, these important, pioneering recordings had never been republished before. The conductor is Ernest Ansermet, the leader (concert master) of the eponymous Decca String Orchestra is the great William Primrose, who abandoned the violin completely for the viola shortly after he participated in these recordings. The uncredited harpsichordist is the tragically short lived conductor Leslie Heward, who played a 1790 Broadwood harpsichord, a fact proudly trumpeted on the labels of the original shellac discs. 6 Concertos were recorded: Nos. 2, 3, 4, 6, and 12 in their entirety, and No. 10 shorn of its 3rd movement. Ansermet, by the way, was one of the first to take a serious interest in the authentic performance of early music, and the savvy listener will be surprised at just how "authentic" the Swiss conductor's interpretations are! The catalogue number for this compact disc is 3-7708.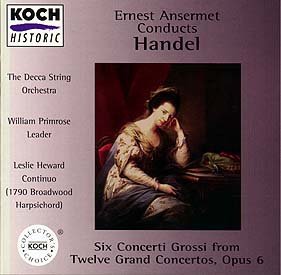 Ernest Ansermet Conducts Handel (Koch Historic 3-7708)
As it happens, Seth and I have also made the first transfer of the first harpsichord recording of Handel's "notorious" "Harmonious Blacksmith". Recorded in April of 1922, this wonderful record is part of the lamentably tiny discography of the charismatic English harpsichordist Violet Gordon Woodhouse (1882-1948), the most astonishing of the many distinguished pupils of that phenomenal pioneer in the revival of early music, Arnold Dolmetsch (1858-1940). All of Mrs. Woodhouse's surviving commercial recordings and portions of a 1941 BBC interview in which she also plays the clavichord, are reissued on "Great Virtuosi of the Harpsichord, Volume III: Violet Gordon Woodhouse", released by Pavilion Records on its Pearl label (GEMM 9242) to coincide with the 1996 publication of Jessica Douglas-Home's biography of her great aunt, "Violet - The Life and Loves of Violet Gordon Woodhouse" (Harvill Press; ISBN 1 86046 269 3).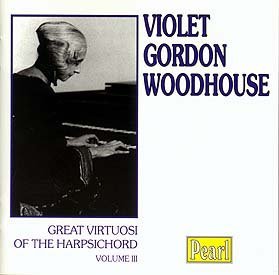 Great Virtuosi of the Harpsichord, Vol. III: Violet Gordon Woodhouse (Pearl GEMM 9242)
Lest you think that all I do as a record producer is transfer rare early Handel recordings, I will reassure you that there are no Handel compositions among the Musicraft recordings of the great American harpsichordist Ralph Kirkpatrick (1911-1984), who is the subject of Volume II of Pearl's "Great Virtuosi of the Harpsichord" series (GEMM 9245), released by Pavilion Records. In addition to a selection of Tudor and Stuart period harpsichord pieces, Mr. Kirkpatrick plays music by Couperin, Rameau, J. S. Bach, and, of course, Domingo Scarlatti.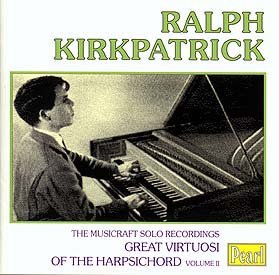 Great Virtuosi of the Harpsichord, Vol. II - Ralph Kirkpatrick, the Musicraft Solo Recordings (Pearl GEMM 9245)
The first commercial project that Seth and I undertook together was "The Art of Harold Samuel". This two CD set which was released by Koch International in 1992 as a part of its "Legacy" series (catalogue no.: 3-7137-2), contains the first reissues anywhere on compact disc of the rare and wonderful recordings of this pioneering Bach specialist. The set also includes the first release of the only known recording of Samuel (1879-1937) in concert or with orchestra. His charismatic and authoritative performance of the cadenza in the first movement of Bach's 5th "Brandenburg Concerto" has to be heard to be believed. It is one of the interpretations that is a benchmark against which all the others must be judged.

The Art of Harold Samuel (Koch Legacy 3-7137-2)
Another benchmark interpretation of the cadenza in the 5th "Brandenburg Concerto" is Alfred Cortot's; his spectacular, virtuosic, and iconoclastic reading was included in "The Art of Alfred Cortot, Conductor", which was formerly available as a part of the Koch Historic series (catalogue no.: 3-7705-2). This 2 CD set contained all of the famous French concert pianist's recordings as a conductor. Sadly, the great pianist and member of the incomparable Cortot-Thibaud-Casals Trio made all too few recordings as a conductor, but the open-minded and inquisitive listener will derive much pleasure and satisfaction from his recordings of the Couperin "Concert dans le Gout Theatral", the Bach "Brandenburg Concertos" (apparently the first integral account of the works under the direction of a single conductor), and the justly renowned performance of the Brahms "Double" Concerto with Jacques Thibaud and Pablo Casals as soloists.

The Art of Alfred Cortot, Conductor (Koch Historic 3-7705-2)
The first project that Seth and I completed for Pavilion Records was "Willem Mengelberg: The Rarest Recordings" (Pearl GEMM 9154).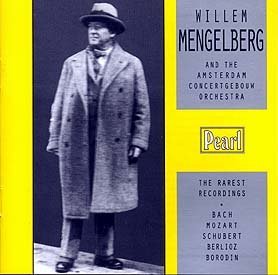 Willem Mengelberg: The Rarest Recordings (Pearl GEMM 9154)
This controversial and iconoclastic individualist is extremely well documented on disc, and his commercial recordings number some 500 78 RPM sides. Some of these are extraordinarily rare, however, and survive only in unique copies. Seth and I would not have been able to meet the daunting challenge of compiling this disc had it not been for the generosity and co-operation of several record collectors. We particularly thank the legendary collectors Thomas L. Clear, Donald R. Hodgman, and Leo Mack for the loan of absolutely unique items. The composers represented on this unusual and important release are Bach, Mozart, Schubert, Berlioz, and Borodin. Those of you who share Seth's and my enthusiasm for Mengelberg's unique artistry are encouraged to visit the homepage of the remarkable organist and record collector Hubert Wendel, whose privately produced series of Mengelberg reissues is, to put it mildly, extraordinary!.
For Pavilion Records, Seth and I undertook a series of reissues devoted to the Swiss pianist and conductor Edwin Fischer (1886-1960). Six of these compact discs have appeared so far, and Seth's and my good friend, Jerome D. Goldstein (fondly known as The Patron Saint of the Bass Clarinet), has produced at least four others.
The first of the ones that Seth and I have done together, "Edwin Fischer Plays Schubert" (Pearl GEMM 9216), is, for me at least, a dream CD; it contains 9 unsurpassable performances that are a joy to listen to in a single sitting: all 8 of the "Impromptus" and the "'Wanderer' Fantasy". As usual, Seth has worked wonders with the restoration of the sound of the original 78 sides, many of which are marred by annoying technical deficiencies.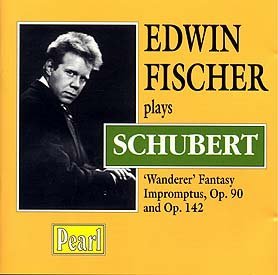 Edwin Fischer Plays Schubert (Pearl GEMM 9216)
The second CD in the series is "Edwin Fischer Plays Beethoven" (Pearl GEMM 9218), which contains Fischer's 1938 recording of the "'Pathetique' Sonata", his 1935 recording of the "'Appassionata' Sonata", and his 1939 recording of the "'Emperor' Concerto", with the Dresden Staatskapelle under the baton of Karl Bohm. Liner notes for this release were written by the afore-mentioned Jerome D. Goldstein, who was the principal bass clarinetist of the Pittsburgh Symphony Orchestra in the Steinberg era. In addition to producing at least four CDs in the Edwin Fischer series on Pearl, Jerry, who also wrote the excellent annotations that accompany "Edwin Fischer Plays Schubert", is working with Seth on a series of reissues of recordings of Artur Schnabel for Pavilion Records.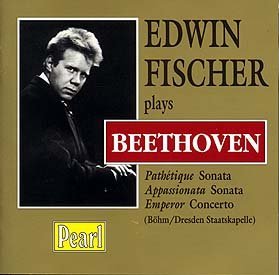 Edwin Fischer Plays Beethoven (Pearl GEMM 9218)
Seth and I also began a Fischer series -- "The Art of Edwin Fischer" -- for Koch International. Only the first volume has been published so far, and, even though I will continue to provide the liner notes for the series, I have ceded responsibility for the succeeding volumes to my fellow record collector Sheldon L. Kuchleffel, who produces records under the pseudonym "Sheldon Leben". The first volume (Koch Historic 3-7701-2), which was released in 1992, contains rare recordings of Fischer as conductor and chamber musician. In addition to his first recording of the Bach "Brandenburg Concerto No. 2", the CD contains Fischer's string orchestra arrangements of Beethoven's "Grosse Fuge" and the A Minor Fugue from Book One of Bach's "Well-Tempered Clavier". The chamber work is the Brahms "G Minor Piano Quartet, Op. 25".

The Art of Edwin Fischer, Vol. I (Koch Historic 3-7701-2)
In May, 1997, Pavilion Records released "Wanda Landowska Plays Bach" (Pearl GEMM 9265), which is the first of a series of reissues that Seth and I are preparing with the active, invaluable, and irreplaceable assistance of Denise Restout, Mme. Landowska's friend, pupil, and amanuensis of a quarter of a century.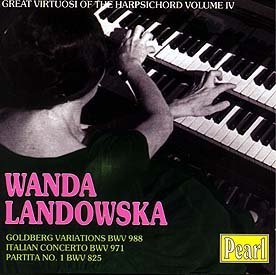 Great Virtuosi of the Harpsichord, Vol. IV: Wanda Landowska Plays Bach (Pearl GEMM 9265)
This disc contains three compositions from Bach's "Clavierubung": The "Partita No. 1 in B Flat", BWV 825, the "Italian Concerto in F", BWV 971, and the "Goldberg Variations", BWV 988. These recordings, which were made in 1935, 1936, and 1933, respectively, have never sounded better!
Denise and I have dedicated the disc to the memory of the legendary John F. Pfeiffer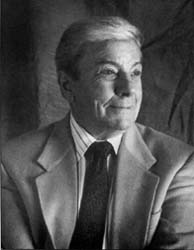 , who produced most of the recordings that Landowska made for RCA Victor. Jack was my great friend and mentor, and he was a close friend of Denise's, too. We both very much miss this wonderful, sensitive, loyal man who, in addition to Landowska, produced recordings for Toscanini, Horowitz, Heifetz, Piatigorsky, Stokowski, Munch, and myriad other "superstars" of classical music; among the last of these is the great American harpsichordist Skip Sempé, the founder and director of Capriccio Stravagante, one of the world's premier period instrument ensembles.
What makes the collaboration with Mme. Restout particularly special is her intimate knowledge of the various recordings that we are preparing for reissue. In almost every instance, she was present at the recording sessions, which gives her unique insight into Mme. Landowska's intentions and wishes. "Wanda Landowska Plays Bach" is the first in an extensive series that Denise, Seth, and I are preparing together.
Our second collaboration, "Wanda Landowska Plays Haydn and Mozart", has recently been released: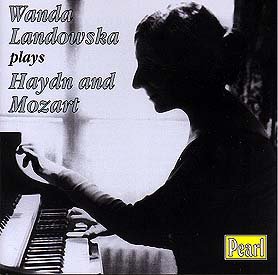 Wanda Landowska Plays Haydn and Mozart (Pearl GEMM CD 9286)
Gathered together on a single disc, for the first time, are all of Mme. Landowska's electrical recordings of music by Joseph Haydn and Wolfgang Amadé Mozart, including the two Mozart Sonatas that survived the Nazis' wartime destruction of matrices containing performances by Jewish artists.
Both the first volume of "Edwin Fischer Plays Bach" (containing a number of solo pieces and the entire First Part of Das Wohltemperierte Clavier), and the second volume of "Edwin Fischer Plays Bach" (containing the Ferruccio Busoni transcription of the Prelude and Fugue in E Flat, BWV 552, and the Fantasia and Fugue in A Minor, BWV 904, in addition to the entire Second Part of Das Wohltemperierte Clavier) were released by Pavilion Records in 1998; both are two CD sets.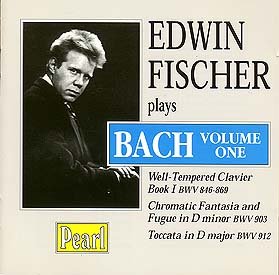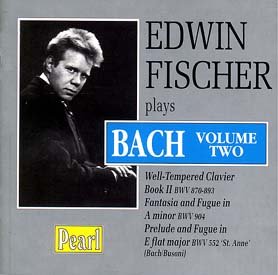 Edwin Fischer Plays Bach, Volumes 1 and 2 (Pearl GEMS 0016 and GEMS 0017)
1999 saw the publication of three releases that are especially dear to my heart.
The first of the three to be published is a long overdue tribute to the unsurpassable French organist Marcel Dupré. The first volume in a projected series entitled "The Art of Marcel Dupré", this CD, which Pavilion Records has issued on its Opal label, bears the subtitle "Marcel Dupré Plays Bach" and is devoted to the recordings of the music of Bach that Dupré made for HMV in London between 1927and 1930.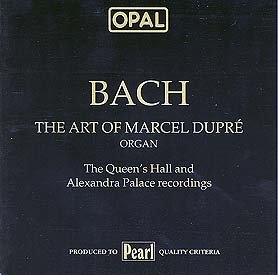 Marcel Dupré Plays Bach (Opal CD 9862)
Of course, Dupré's approach to the music of Bach is at, very least "out of favor" with, if not absolute to, the "Performance Practice Puritans" (the PPPers, as I call them) whose narrow-minded, faddish, often illogical, and -- every bit as often -- demonstrably erroneous regulations governing the "correct interpretation and execution" of Early Music. (Note the initial caps. Their employment is not an error. After all, Early Music is now an exclusionary musical demesne ["Domain" is anachronistic to the PPPers, I'm sure!] that in recent years has grown faster than kudzu (AKA, "Jack-in-the Beanstalk Vine" and "Mile-A-Minute Weed") in southern Alabama and that now includes Brahms!) The PPPers, alas, have cowed and suppressed all but the most courageous and valiant of performers as we near the millennium. Thank God for artists like Rosalyn Tureck, Jean Guillou, Nikolaus Harnoncourt, Kim Heindel, Angela Hewitt, Skip Sempé, Richard Troeger, Michael Murray, Andras Schiff, Rafael Puyana, Trevor Pinnock, Christopher Hogwood, Denise Restout, Irma Rogell, Joshua Rifkin, Peter Watchorn, Hubert Wendel, and Harald Vogel who are unintimidated by these musicoillogical neo-fascists and are the true keepers of the early music flame in general and the Bach flame in specific!
But I digress.
It is both distasteful and appalling to the PPPers to be told that there may be more to Dupré's Bach than they care to realize. They will not be budged by the evidence and the "heretical" analysis of it, of course, but they nonetheless should take a lengthy moment to consider that Dupré was in a direct line of pedagogical descent from Sebastian Bach, as I explain my liner notes, and that there is, to the open-minded at least, a realistic probability that there are significant vestiges of the technique that Bach taught to his pupils and advocated to his followers to be heard in Dupré's performances. For that reason alone, Dupré's Bach recordings are invaluable, but as documents of a charismatic artist and consummate virtuoso at the zenith of his powers they are priceless. And I am sure that you will agree that Seth Winner has done a spectacular job of transferring the sometimes artlessly engineered originals to their best advantage. In fact, to my practiced (if biased!) ears, they have never sounded better!
In the late spring, Pavilion Records released "Pablo Casals Plays Bach - The Electrical Recordings". This two CD set contains all of the recordings of Bach's music that Casals made during the decade and half between the introduction of the electrical recording process in 1925 and his withdrawal into self-imposed exile in Prades late in 1939, after Franco had conquered Spain and all of Europe had descended into the abyss of World War Two. The legendary HMV recordings of the Six Suites for the 'Cello Alone, BWV 1007-1012 are transferred for the first time in the order in which Casals recorded them (3, 2, 1, 6, 4, and 5) rather than in the order in which Bach had Anna Magdalena put them when she copied out what is our primary source for these astonishing compositions. I also have to say that never have these recordings sounded better or more realistic. In Seth's astonishing transfers, Casals truly sounds like Casals! (As those who have visited my website called The Face Of Bach already are aware, I am also a forensic portrait ioconographer, and I have made a particular specialty of the portraits that are alleged to depict Johann Sebastian Bach. I confess, therefore, to being less than happy about the image of Bach that was selected for the booklet cover. Not only is it "flopped", but also it almost certainly is NOT an accurate depiction of the facial features of Johann Sebastian Bach!)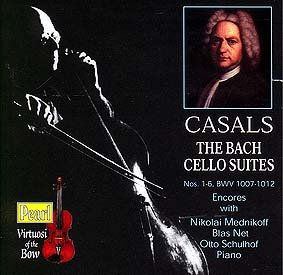 Pablo Casals Plays Bach - The Electrical Recordings (Pearl GEMS 0045)
For me "Pablo Casals Plays Bach - The Electrical Recordings" is truly a labor of love, the realization of a long held ambition, and the first of what I hope will be a series of homages to great artists of the past whom I had the privilege of knowing. Producing this set afforded me the opportunity to share some personal reminiscences of Don Pablo, and, at the urging of Pavilion Records' Managing Director, John Waite, I took advantage of the opportunity.

Casals, of course, is a pariah to the PPPers, and he was forthright in acknowledging that he cared little or nothing about issues of "authenticity" and "informed historical performance practice". But the PPPers would do well to listen to his recordings of Bach with open ears because Casals's interpretations epitomize fundamental principles of the art of music and insights about its interpretation that transcend labels and categorization and that are applicable to all styles of music and approaches to its performance. Casals was, without doubt, the greatest musician it was ever my privilege and pleasure to hear, and one of the two performing musicians (The other, as you may have already guessed, is Wanda Landowska.) who, through their performances -- whether live or recorded -- have exerted the most influence on me and opened the most doors to understanding and intellectual growth.
And speaking of Landowska, in 1999, Denise, Seth, and I collaborated with our good friend Albert tenBrink, the founder and owner of A Classical Record, the world's premiere collectors' classical vinyl store, located in Hackensack, New Jersey, to make available to all and sundry a unique recorded document, a recording of the only concert that Wanda Landowska and Yehudi Menuhin ever had the chance to give together. (They wanted to do much more together, but the scheduling conflicts of their respective careers prevented it, to their mutual frustration and regret.) The concert was given in Town Hall, New York city, on December 20, 1944, over 55 years ago.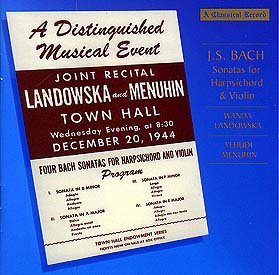 Wanda Landowska and Yehudi Menuhin Play Four Bach Sonatas (A Classical Record ACR 45)
Since I first had learned, as a teenager, that Landowska and Menuhin had given this recital, I had dreamed and prayed that it had, in fact, been recorded and that the recording would turn up in at least "passable" sound. As I wrote in the annotation that I contributed to the booklet of "Wanda Landowska and Yehudi Menuhin: Four Bach Sonatas for Harpsichord and Violin":
When, nearly 30 years after I first met her and over 30 years after we first began to correspond, Denise Restout confided to Seth Winner and me that a recording of the legendary Town Hall recital that Wanda Landowska and Yehudi Menuhin gave on December 20, 1944, did, in fact, exist and then turned the precious acetates over to us for sound restoration and conservation, she made a long held dream come true. For me, a fervent fan of Landowska and of Menuhin since my childhood, it was as if I were being handed the Holy Grail that afternoon in Landowska's Music Room. I had long hoped that somehow, some way, the microphones that hung over the stage in Town Hall in those days had been open that December evening, and now to be able to play a role in the dissemination of this precious document to the world at large is a wonderful fantasy fulfilled and the source of immense personal joy and satisfaction.
The acetates presented tremendous sonic restoration challenges, but Denise's faith in Seth, whom she has nicknamed "my Magician", has proven to be well-placed. Denise told us that Landowska's Pleyel has never sounded more realistic, and those who are familiar with Lord Menuhin's distinctive sound will agree that he has been superbly served as well. The performances are extraordinary, and they have an excitement and charisma that the commercial RCA Victor recording of the Bach E Major Sonata, BWV 1016, inexplicably and uncharacteristically for both artists, lacks. The recording proves the truth of Mr. Menuhin's recollections; once again, as I wrote in my annotation for the booklet:
"I was terribly nervous during the first movement of the First Sonata," I recall Mr. Menuhin telling me [in January, 1970], "but I settled down quickly, and it got better and better as the concert went on. The E Major Sonata, which came last, was particularly good."
In the United States and Canada, the CD is distributed by Qualiton Imports, to whom you should write if you are unable to obtain it from your friendly neighborhood record store (or your cyberspace record store for that matter!) For information on the availability of the disc in other countries, and for information on ordering the disc by mail if you are not from the USA or Canada, please visit the Wanda Landowska and Yehudi Menuhin Page at A Classical Record.
Another personal tribute, a CD to commemorate the centenary of the birth of the great French pianist Robert Casadesus, was released on September 23, 1999.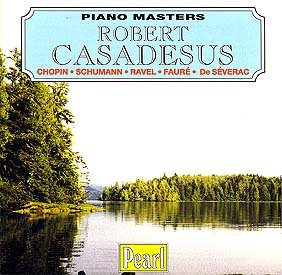 Robert Casadesus, A Centenary Tribute (Pearl GEM 0068)
In addition to the eagerly sought after 1940 recording of the Ravel Sonatine, the disk contains a selection of Casadesus's early recordings, which are all too little known. For me, the most noteworthy of these exquisite discs is the complete set of the Chopin Ballades, which he recorded in 1928, 1929, and 1930, for French Columbia. These unsurpassable readings -- clean, crisp, charismatic, and emotionally compelling -- are proof positive that Casadesus was bang-on accurate when he reminded me, while reminiscing about one of his mentors, Isidor Philipp, the close friend of Debussy and the teacher of Guiomar Novaes, that Philipp's teacher, Georges Mathias, "was the favorite pupil of Chopin, and I think that we have the tradition of Chopin through Philipp and Mathias. I say the tradition of Chopin is to play Chopin as it is written....Free, you know, but not manièré. Simplement....[T]he favorite composer of Chopin was Mozart. It is difficult to say that you must play Chopin like Mozart, but you must play Chopin in the way of Mozart - simple, free, musically."
Once again, I agreed to John Waite's request, and the booklet contains significant excerpts from the unpublished interview with Robert and Gaby Casadesus that I recorded in 1969, while a Princeton undergraduate.
Seth, Denise, and I have collaborated on yet another Wanda Landowska reissue for Pearl, this time a two CD album that contains all of Mme. Landowska's recordings of Sonatas by Domingo Scarlatti, her first recording of the Bach Fantasia in C Minor, BWV 906, the "Air and Variations" from the Handel Suite in B Flat Major (No. 1 from the 1733 collection), and the 1943 broadcast performance of the Carl Philipp Emanuel Bach Concerto in D Major for Harpsichord and Strings.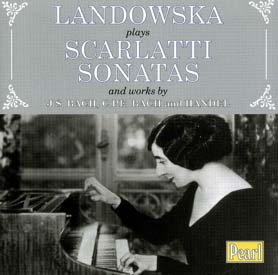 Landowska Plays Scarlatti Sonatas (Pearl GEMS 0106)
Denise has once more contributed a remarkable and atmospheric annotation, and yet again, Seth has worked his customary sound restoration miracles on the original source materials. The initial response has been enthusiastic, I am happy to say.
For information about my work and my qualifications as a trusts and estates lawyer, please click on the link to the homepage of the law firm of which I was a member for 17 years, Ganz & Hollinger, P. C., formerly known as Ganz, Hollinger & Towe, and to which I now am of counsel.
Please click on the
to return to the Teri Noel Towe Welcome Page.
---
---
Copyright, Teri Noel Towe, 1997, 1999, 2001
All Rights Reserved
---
The Teri Noel Towe, Producer of Historical Reissues on Compact Discs Page at the Teri Noel Towe Home Pages is a PPP Free web page.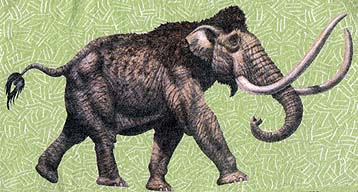 The Teri Noel Towe, Producer of Historical Reissues on Compact Discs Page at the Teri Noel Towe Home Pages has received the HIP Woolly Mammoth Stamp of Approval from The HIP-ocrisy Home Page.