Sebastian Bach: Cartoons and Caricatures
Johann Sebastian Bach has been the inspiration for numerous cartoons and caricatures. This page of designed to be an archive of them.
First, my all time favorite, a cartoon by Handelsman that appeared in the now long defunct Saturday Review in the late 1960s: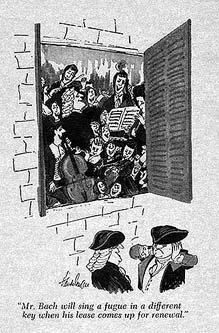 I have long regretted that I did not take advantage of the opportunity to buy the original. I cannot help but wonder if Mr. Handelsman still has it, and how I could track him down to ask. If any of you knows, please send me an e-mail!
Another favorite comes from Is It Anyone We Know?, a collection of cartoons drawn by the late, great George Price that was published in 1940. Of course, you have to remember the 78 RPM era to fully appreciate this one!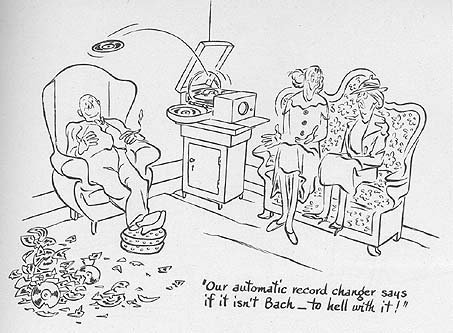 To be expanded...

Click on
to return to the Johann Sebastian Bach Index Page.
Click on the
to return to the Teri Noel Towe Welcome Page.
---
---
Copyright, Teri Noel Towe, 1997
All Rights Reserved