Born: June 19, 1898 - Zürich, Switzerland
Died: July 21, 1993 - Lucerne, Switzerland

The esteemed Swiss conductor and composer, Paul Müller-Zürich (real name, Müller), studied with Andreae and Jarnach at the Zürich Conservatory (1917-1919) and in Paris and Berlin.

Paul Müller-Zürich then taught in Zürich at the Conservatory from 1927 to 1969 and at the University from 1959 to 1970. He was active as a choral and symphonic conductor, serving as director of the EIisabeth Schmid Choir from 1931 to 1939, the Lucerne Chamber Orchestra from 1948 to 1955, and other ensembles. His music evolved from early Romantic influences to reflect neo-Baroque practices in a contemporary, tonal style.

Works

Orchestral
4 symphones: Little Symphony (1920), Symphony for Strings (1944), Symphony (1947), and Symphony for Flute and Strings (1952); Little Serenade for Chamber orchestra (1921); Hymnus (1927); Concerto for Viola and Small orchestra (1934); 2 violin concertos: No. 1 for Violin and Small orchestra. (1935) and No. 2 (1957); Concerto for Organ and Strings (1938); Cello Concerto (1954); Sinfonischer Prolog (1955); Sinfonische Suite (1956-1957); Concerto for 2 Violins, Harpsichord, and Strings (1958); Sinfonietta (1964); Sonata for Strings (1967-1968); Consenso, suite (1974).

Chamber
String Quintet (1919); 2 string quartets 0921, 1960); 3 violin sonatas (1922, 1941, 1952); Marienleben for 10 Instruments (1928); Praludium, Arie und Fuge for Oboe, Bassoon, Horn, Trumpet, and String Quintet (1933); Petite sonate for Clarinet and Piano (1942); Fantasie und Fugue for Violin and Organ (1949); String Trio (1950); Canzone for String Quartet (196); Trio for Flute, Clarinet, and Piano (1965-1966); Sonata for Solo Viola (979); Fantasie for Oboe and Organ (980); Serenata turicensis for Basset Horn, Viola, and Cello (981); organ music.

Other
Dramatic works; choral music; songs.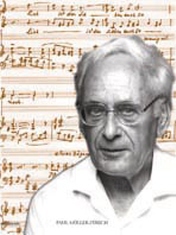 Source: Baker's Biographical Dictionary of 20th Century Classical Musicians (1997)
Contributed by

Aryeh Oron (January 2006)
---
Use of Chorale Melodies in his works

Title

Chorale Melody

Year

Ach Gott, vom Himmel sieh darein,

Choralfantasie for Organ with 2 Trumpets and 2 Trombones

1953

Chorale Fantasia on Christ ist erstanden for organ, 2 trumpets and trombone
Bibliography
F. Jakob

: Paul Müller: Biographie und Werkverzeichnis (Zürich, 1963)