Recordings/Discussions
Background Information
Performer Bios
Poet/Composer Bios
Additional Information
Born: November 18, 1895 - Basel, Switzerland
Died: April 19, 1981 - Morges, Switzerland
Life
The distinguished Swiss pianist, pedagogue, and composer, Ernst Lévy, studied in Basel with Hans Huber and Egon Petri, and in Paris with the French virtuoso Raoul Pugno.

By 1916, Ernst Lévy was teaching at the Basel Conservatory alongside Huber, and from 1917 to 1921 he was head of the piano master-class at the this institute. Four years later, he set up residence in Paris and, after spending some time as a pianist and teacher, he was founder-conductor of the Choeur Philharmonique in Paris (1928). Among the works given their Paris permieres under Levy's direction were Johannes Brahms' Ein Deutsches Requiem and Franz Liszt's oratorio Christus. In 1935, Levy and Choeur Philharmonique recorded F. Liszt's Missa Choralis for the Polydor label, the first recording ever made of one of F. Liszt's sacred choral works.

Political conditions in Europe during the 1930's brought Ernst Lévy, a Jew, to the USA in 1941. He taught at the New England Conservatory of Music in Boston from 1941 to 1945, Bennington College in Vermont from 1946 to 1951, the University of Chicago from 1951 to 1954, the Massachusetts Institute of Technology from 1954 to 1959, and Brooklyn College of the City University of New York from 1959 to 1966. Levy's teaching of piano and composition, and his abilities as a choral and orchestral conductor, kept him fully occupied during his American years; this period also saw a remarkable output of works that ultimately embraced 15 symphonies and an impressive quantity of chamber and choral music. It was during this time that Levy presented occasional recitals as pianist and made a series of recordings on the USA Unicorn label. Most of Levy's recordings are now available on compact discs issued by Marston Records. He retired from academia in 1966 and spent his remaining fifteen years in Switzerland.
Music
As a composer, Ernst Levy's idiom was not identifiable with any school or tradition. He was a firm believer in the viability of tonality (as opposed to dodecaphony), and he constantly sought new vistas within the parameters of tonal music. He went so far as to study the writings of Pythagoras and the mathematical similarities between musical scales and start distances explored by Keppler. Levy measured the south tower of the Chartres cathedral to determine the relative proportions of the tower's architectural elements and published his findings on the subject as an appendix to the book, "The Gothic Cathedral: Origins of Gothic Architecture and the Medieval Concept of Order," by Otto Georg Von Simson in 1956. Levy concluded that the entire cathedral was a fully calculated, deliberate representation, "full of symbols, and full of musicality."

Ernst Lévy composed 15 symphonies (1920-1967); many choral works; chamber music; various pieces for solo instruments; etc. Among his publications are Tone: A Study in Musical Acoustics (with S. Levarie; Kent, Ohio, 1968; 2nd edition, revised, 1980), Des rapporls entre la musique et l société suivi de réflexions (Neuchatel, 1979), Musical Morphology: A Discourse and a Dictionary (with S. Levarie; Kent, Ohio, 1983), and A Theory of Harmony (Albany, New Yortk., 1985).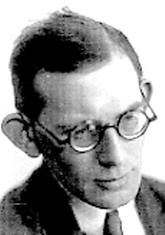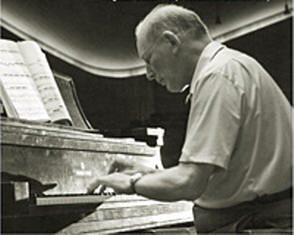 Source: Bakerís Biographical Dictionary of 20th Century Classical Musicians (1997); International Piano Archives at Maryland, UM Libraries Website
Contributed by

Aryeh Oron (July 2007)
---
Last update: Wednesday, June 14, 2017 15:20